Small Businesses
Senator Warren believes that small businesses are the heart and soul of our economy. The idea that anyone with a great idea and the right skills can step up and have a shot at success is central to the American story. In Massachusetts alone, small businesses employ 1.4 million people – that's almost 47 percent of all private sector workers in the Commonwealth. Senator Warren is focused on making sure Washington works better for small businesses and their employees.
This starts with fixing policies that benefit only giant corporations and crush competition. Senator Warren knows that family cranberry growers on the Cape don't have bank accounts in the Cayman Islands. A tech start-up in Boston or Worcester isn't transferring its money to a foreign tax haven. Senator Warren believes that public policies from taxes to health care should help give small businesses a level playing field to compete and to succeed.
Senator Warren also believes in making sure Massachusetts small businesses are connected to federal resources and business opportunities. Please find information about some of these resources below.
Massachusetts Business Matchmaker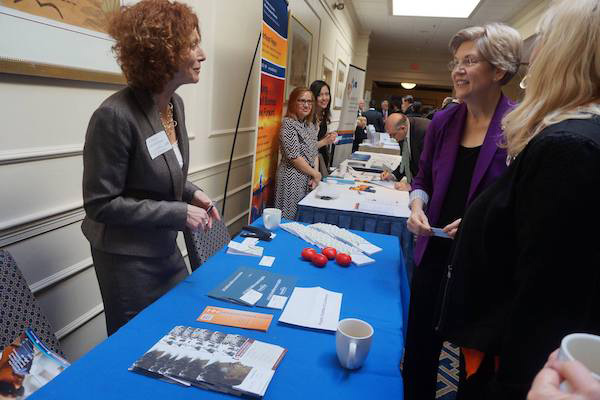 Senator Warren hosts Massachusetts Business Matchmaker events, bringing together hundreds of small business owners from across the Commonwealth for a day of workshops and networking. The event is a chance for small businesses to meet directly with representatives from government agencies and prime contractors offering subcontracting opportunities.
Previous Matchmaker events have been held in Worcester, Lowell, Framingham, and Roxbury. Please check back for more information about the next Massachusetts Business Matchmaker.
Resources from the Small Business Administration
The U.S. Small Business Administration helps Americans start, build and grow businesses. Through an extensive network of field offices and partnerships with public and private organizations, the SBA delivers its services to people throughout the United States, Puerto Rico, the U.S. Virgin Islands and Guam. To learn more about the local resources, visit: SBA Massachusetts District Office
Resource Network Partners & Helpful Links: SBA Training & Learning Center l SBA Partner Training Portal l Write Your Business Plan l Center for Women & Enterprise l SCORE Mentors l Massachusetts Small Business Development Centers l Procurement Technical Assistance Center l Massachusetts Export Center l Veterans Business Outreach Center l SBA Lender Match l Small Business Investment Research l SBA Surety Bonds l Business Guide l SBA en español