January 11, 2018
Warren, Tillis Introduce Bipartisan Legislation to Protect Veterans from Predatory Home Lending
Bill has been Endorsed by the Veterans of Foreign Wars of the US and the American Legion
Bill Text (PDF)

One-Pager (PDF)
Video: Warren and Tillis Discuss the Protecting Veterans from Predatory Lending Act (YouTube)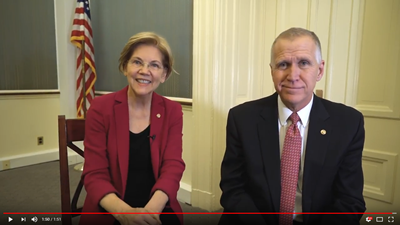 Washington, DC - United States Senators Elizabeth Warren (D-Mass.) and Thom Tillis (R-N.C.) today introduced the Protecting Veterans from Predatory Lending Act of 2018, bipartisan legislation that would prevent veterans from targeted predatory home loan practices by requiring lenders to demonstrate to consumers that there is material benefit to them when refinancing their mortgage. The legislation is co-sponsored by Senators Dean Heller (R-Nev.), Jon Tester (D-Mont.), Shelley Moore Capito (R-W.Va.), Joe Manchin (D-W.Va.), Richard Burr (R-N.C.), Brian Schatz (D-Hawaii), Chris Van Hollen (D-Md.), Dan Sullivan (Alaska), Tim Scott (R-S.C.), and Joe Donnelly (D-Ind.).

The Department of Veteran's Affairs (VA) home loan program was designed to provide veterans and servicemembers with the opportunity to purchase their own home through a VA insured mortgage from a private lender. VA loans have lower credit score requirements than other mortgages, and often don't require down payments. Since its inception, it has insured more than 20 million home loans to help veterans become homeowners. However, today a small number of lenders are abusing the program by utilizing misleading advertising tactics and engaging in a practice known as "churning" - the refinancing of a home loan over and over again to generate fees and profits for lenders at the direct expense of veterans and their families.
Between April 2016 and November 2017, more than 6,000 veterans in Massachusetts refinanced their VA mortgages - and more than 400 of those refinances were flagged by Ginnie Mae as potentially predatory because they were issued less than six months after the initial mortgage. Last September, Senator Warren raised concerns about this problem in a letter to Ginnie Mae, the government corporation responsible for approving lenders to securitize VA-backed mortgages and obtain a government guarantee. Following the senator's letter, Ginnie Mae announced a new joint task force with the VA to crack down on lenders that scam veterans. While the Ginnie Mae-VA task force has already taken steps to address this problem, this bill would give Ginnie Mae and the VA additional legal authority to stamp out these predatory practices.
"The government shouldn't be backing lenders who exploit veterans just to line their own pockets. All three of my brothers served in the military and I understand the incredible sacrifices made by those who fight for our country - they deserve better," said Senator Warren. "I'm glad to work with Senator Tillis to crack down on lenders engaging in predatory practices that hurt veterans, their families, and American taxpayers."

"The VA home loan program was designed to give veterans and servicemembers the opportunity to become homeowners as they raise their families and it has proven to be a great success," said Senator Tillis. "Unfortunately, a few bad actors are taking advantage of the program as home lenders have begun targeting veterans and servicemembers to generate profit and fees at their expense, often leading to higher loan amounts and putting families in a worse financial position than they started off. Our men and women in uniform deserve better, and I am proud to partner with Senator Warren on this bipartisan legislation that will end these predatory home lending practices. I hope Congress will consider this bill quickly so we can protect those who have sacrificed so much to protect us."

National Commander Denise H. Rohan, The American Legion: "We appreciate the thoughtful approach that Senators Tillis and Warren have taken in addressing the abusive lending practices that are targeting our nation's veterans. We believe that this is a measured approach, and are encouraged by the bipartisan group that the senators have fostered. We look forward to working with all parties as Congress continues to address this important issue."

Patrick Murray, VFW: "Predatory lenders must not be afforded the opportunity to take advantage of veteran homeowners. The Veterans of Foreign Wars is committed to working with Congress to ensure reasonable protections are put in place to prohibit bad actors from preying upon veterans and thank Senator Tillis for his leadership in addressing this important issue."
###
---
---
Next Article
Previous Article