January 23, 2014
Senator Warren Highlights "Priorities for the Future" During Massachusetts Tour
BOSTON, MA -- On Tuesday and Wednesday, Senator Elizabeth Warren visited cities and towns from Boston to Springfield, as part of her "Priorities for the Future" Massachusetts tour. During events with constituents across the state, Senator Warren discussed her agenda for the year ahead and the importance of making investments that help us build a strong middle class.
On Tuesday, Senator Warren attended an event at Charlestown High School to increase awareness of College Goal Sunday, which will be held January 26th at over 30 locations across the Commonwealth. College Goal Sunday is a statewide effort to inform high school students about the Free Application for Federal Student Aid (FAFSA) and help them apply.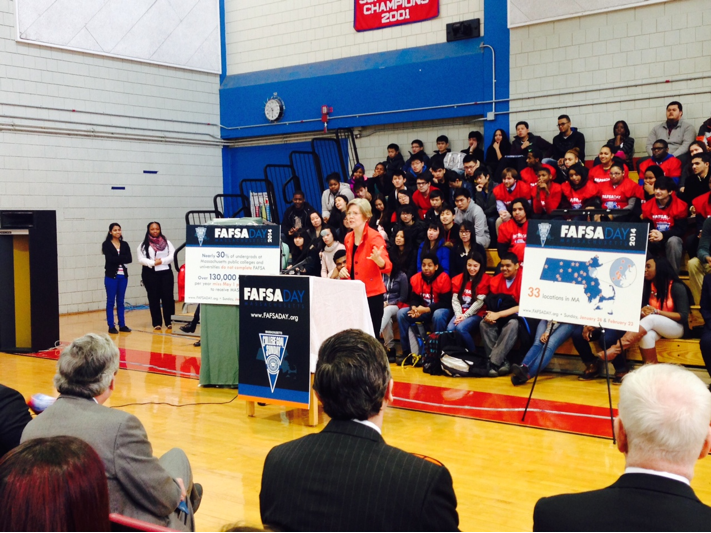 PHOTO: Senator Warren speaks to students at Charlestown High School about the importance of filling out the FAFSA to access college financial aid
Also on Tuesday, Senator Warren visited 1000 Southern Artery Senior Center Quincy to discuss the importance of strengthening and expanding Social Security. Senator Warren has called on Congress to expand Social Security to address the nation's retirement crisis.
In the afternoon, the senator held an event in Marshfield to talk to constituents about flood insurance. Senator Warren has been fighting to pass the Homeowner Flood Insurance Affordability Act, which would delay the implementation of new FEMA maps that place homeowners in flood zones for the first time and protect from huge flood insurance premium hikes.
PHOTO: Senator Warren joins state Rep. Jim Cantwell and constituents to discuss efforts to provide homeowners with relief from flood insurance rate hikes
Sen. Warren also visited Massasoit Community College in Brockton on Tuesday to host a roundtable discussion with students on college affordability. At the event, Sen. Warren announced her intention to introduce legislation to help reduce the growing student loan burden that is burying graduates in debt and acting as a drag on our economic growth. Senator Warren continued that push on Thursday with a visit to UMass Amherst, where she met with students and toured the new life sciences facilities.
PHOTO: Sen. Warren speaks with students at Massasoit Community College in Brockton about efforts to make college more affordable, and announced plans to introduce legislation to assist students with loan refinancing
On Wednesday, Senator Warren began her day with an open house for constituents in Springfield, to mark the one-year anniversary of the opening of her Springfield office.
Later Wednesday morning, the senator participated in an event at Baystate Medical Center to discuss investments in medical research and her push to double funding for the National Institutes of Health and National Science Foundation.
Senator Warren wrapped up her "Priorities for the Future" tour with a meeting in Worcester on Wednesday evening to discuss the expiration of unemployment insurance and her continued fight to help families struggling to find work. Congressman Jim McGovern and Mayor Joseph Petty also attended the event.
###
---
---
Next Article