October 26, 2022
ICYMI: Senator Warren and Representative Pressley Launch Student Debt Cancellation Tour Across Massachusetts
Lawmakers Visited Sites in Boston, Brockton, Worcester, and Springfield to Sign Up Residents for Student Debt Cancellation
Boston, MA – In case you missed it, on Tuesday, October 25, 2022, U.S. Senator Elizabeth Warren (D-Mass.) and Representative Ayanna Pressley (D-Mass.) visited communities across Massachusetts to celebrate the Biden administration's student debt cancellation plan and help residents sign up for student loan relief. Their statewide road trip followed the White House's launch of the application for student loan debt cancellation.
Alongside Massachusetts students, borrowers, advocates and elected officials, the lawmakers visited the Grove Hall Branch of the Boston Public Library in Dorchester, Massasoit Community College in Brockton, UMass Chan Medical School in Worcester, and Springfield Technical Community College in Springfield.
"I was delighted to see many Massachusetts constituents and local and state officials across my student debt tour with Congresswoman Ayanna Pressley," said Senator Elizabeth Warren. "Over 800,000 hard working people in Massachusetts can now apply for student debt relief and I was grateful to discuss this life-changing opportunity with communities in Massachusetts. People should continue to visit studentaid.gov to apply for student debt cancellation and I encourage public servants to apply for the PSLF waiver before the October 31st deadline."
"Senator Warren and I are committed to spreading the word and encouraging folks across Massachusetts to access this essential relief," said Representative Ayanna Pressley. "It was great to be in community along with advocates and help constituents apply for student debt cancellation in real time. The application takes just a few minutes, and we encourage everyone eligible to apply. I also want to underscore that there are just a few days left for our educators, non-profit workers, nurses, and other in public service to apply for the PSLF waiver. Student debt cancellation will change and save lives, and I look forward to continuing to get the word out in my district, across Massachusetts, and nationwide. I am so grateful to Senator Warren for being such a dedicated partner in this work every step of the way." 
"I commend Senator Warren and Congresswoman Pressley for their dedicated and effective advocacy for student debt relief," said Massachusetts Attorney General Maura Healey. "My office's Student Loan Assistance Unit and the Student Loan Ombudsman stands ready to assist borrowers, and I am proud of their work to provide guidance when it comes to Public Service Loan Forgiveness. With the Limited PSLF Waiver program set to expire in just a few days, we urge all public service workers to take the necessary steps to get the relief they need." 
"We applaud Senator Warren and Congresswoman Pressley for their relentless work on behalf of student loan borrowers and for hosting the historic student loan cancellation tour," said Persis Yu, Deputy Executive Director of the Student Borrower Protection Center. "Thousands of Massachusetts borrowers now have the chance to sign up for life-changing student loan debt relief. We cannot stop until every single borrower across every single community is able to feel the impact of this transformational policy. We urge all public officials to follow suit and deliver racial and economic justice to their constituents by helping to cancel their student debt."
"We're thrilled to see Senator Warren and Representative Pressley take to the streets to spread the word about student loan forgiveness," said Kyra Taylor, staff attorney at the National Consumer Law Center. "Widespread debt cancellation will be transformational for student loan borrowers in Massachusetts and across the country. Releasing borrowers from the debt that has accumulated during the student loan crisis will allow so many to begin to invest in brighter futures for themselves and their families. Everyone who is eligible for forgiveness needs to know that they can begin to apply for debt relief today." 
"This debt has become a major barrier to economic growth and now 800,000 Mass. residents, many of them Black and Brown, will have the financial freedom to launch businesses, become property owners or increase their savings; all of which are integral to closing the racial wealth gap in the Commonwealth and beyond," said Nicole Obi, CEO, Black Economic Council of Massachusetts. "I was proud to stand with Rep. Pressley and Sen. Warren to encourage every resident to apply for this transformative relief."
"Student debt cancellation and the public service loan forgiveness program represent critical relief for nurses and healthcare professionals who are struggling with debt that makes it harder for them to pay for essentials and invest in their future," said Katie Murphy, a practicing ICU nurse and Massachusetts Nurses Association President. "Patients are sicker than ever, equipment is more advanced, and educational requirements have increased, forcing people to take on tremendous debt just to start a career in caregiving. The debt cancellation advanced by the Biden Administration and supported by Senator Warren and Representative Pressley will strengthen our communities and put the healthcare profession within reach of many who otherwise could not afford it."
"The Massachusetts Teachers Association and its 115,000 members believes and advocates for high-quality, debt-free public higher education. A first step, championed so brilliantly by Senator Warren and Representative Pressley, is to cancel some of the student debt that has been a destructive burden on millions of Americans. Student debt is a racial and economic justice issue, as the nearly $2 trillion dollars in student debt hurts our working class students and students of color to a greater degree. We are also pleased that the broad coalition led by Senator Warren and Representative Pressley won important changes to the Public Service Loan Forgiveness program, aiding many of our members who would otherwise be paying off loan debt into retirement," said Max Page, President of the Massachusetts Teachers Association.
Boston, Massachusetts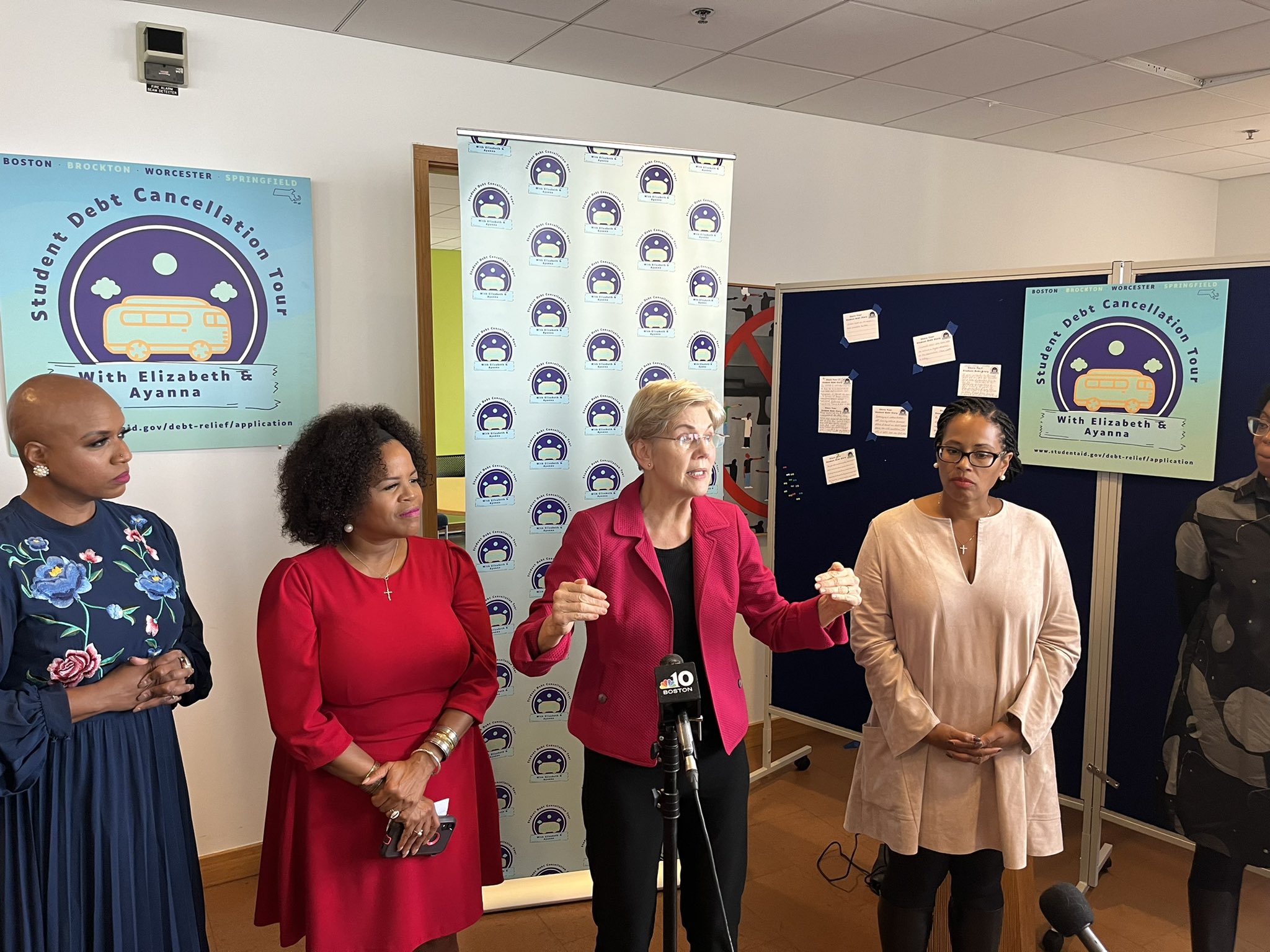 Brockton, Massachusetts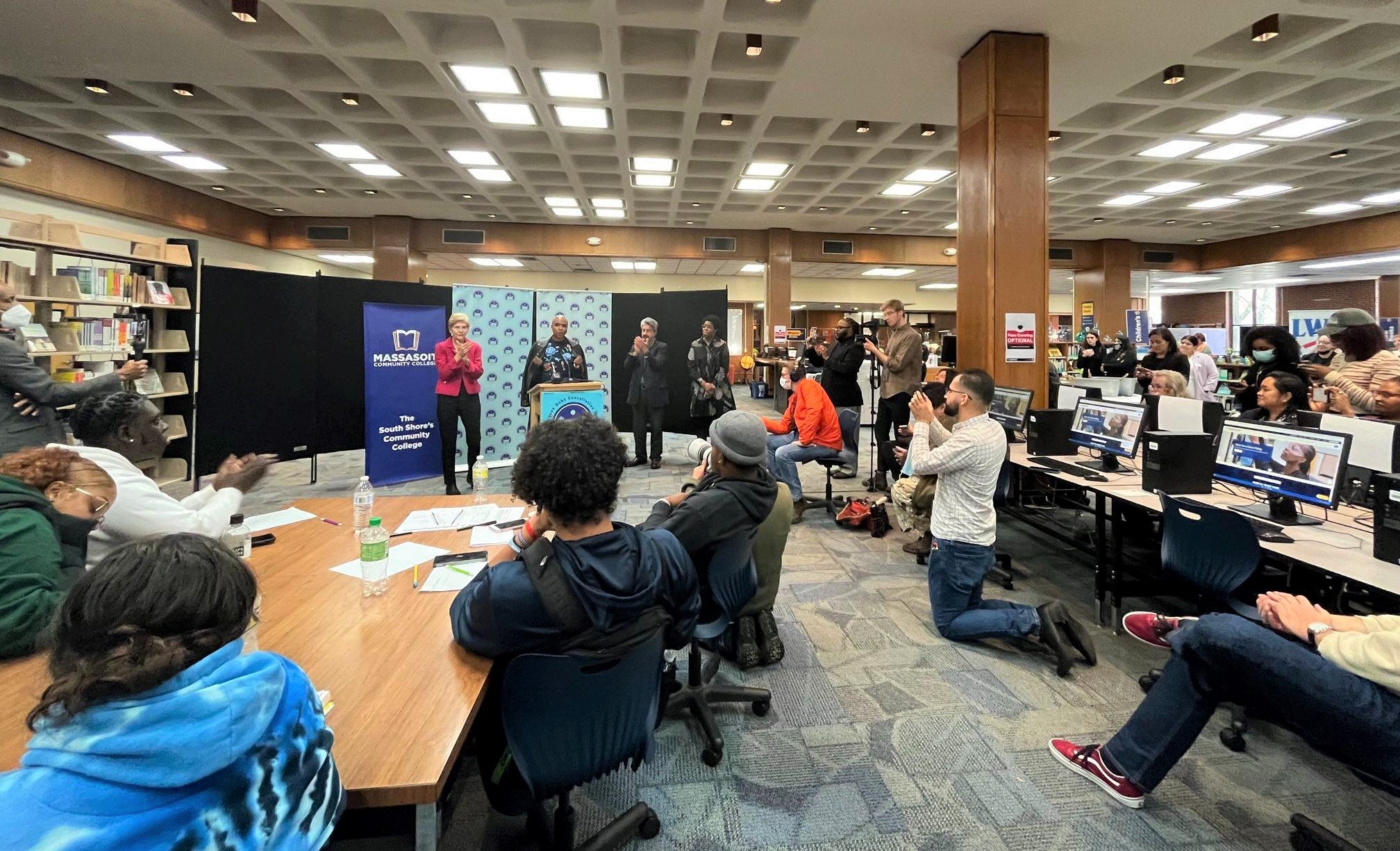 Worcester, Massachusetts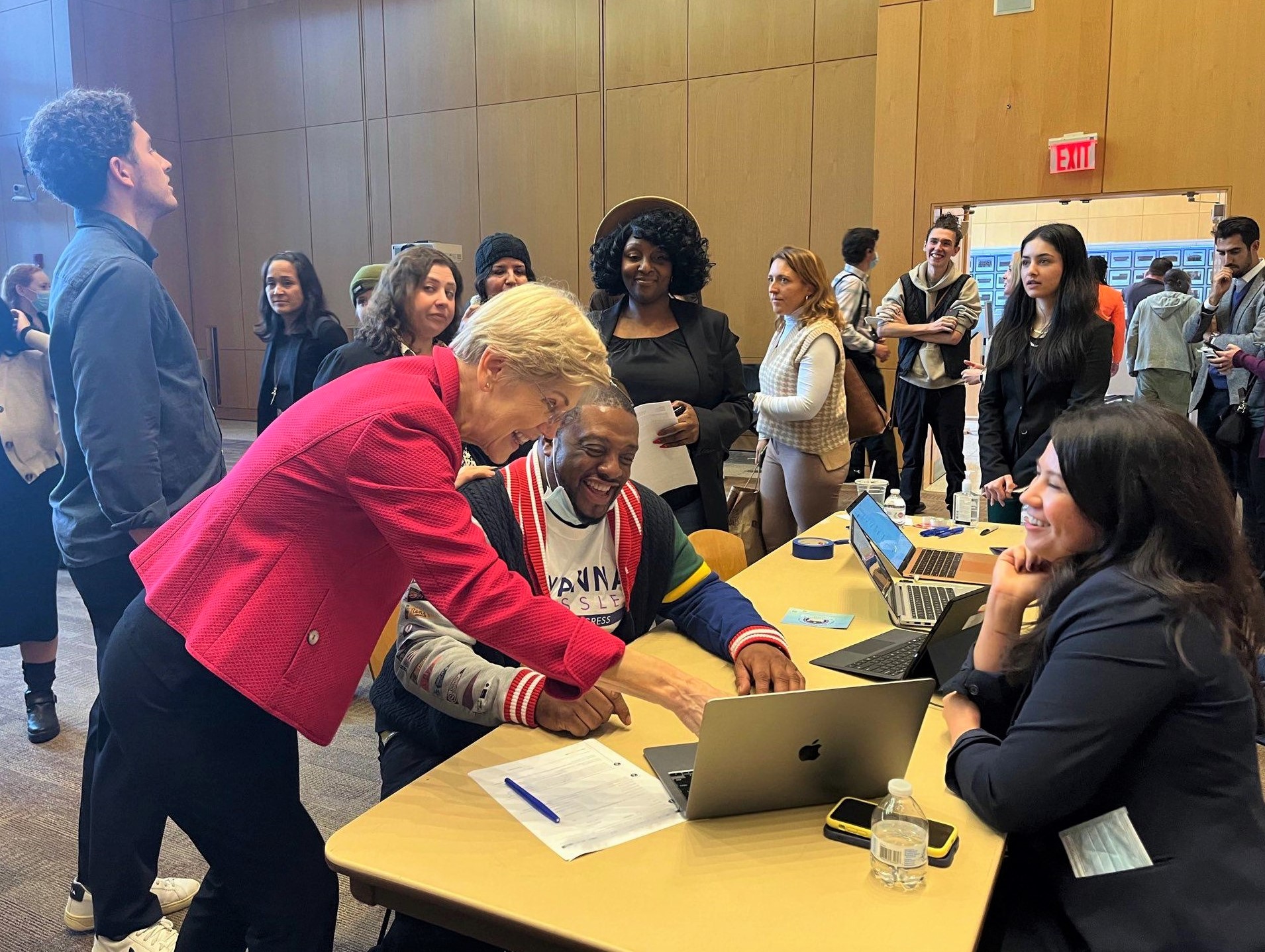 Springfield, Massachusetts
Transcript: Senator Warren's Opening Remarks of Statewide Tour to Sign Up Massachusetts Residents for Student Debt Cancellation
Grove Hall Branch of the Boston Public Library, Dorchester
October 25, 2022
Senator Elizabeth Warren: I'm here to talk about two things. And that is both to celebrate our partnership – It's a long path to get here, and sometimes a little noisy along the way. I just want to say thank you to all of you. I'm here to do two things this morning. One is to celebrate partnership. And two is to extend partnership even further. I start by celebrating partnership by saying when you really go into a hard fight, you want somebody beside you who is ready with the same kind of determination to live and breathe this morning, noon and night until we get the job done. And that person is Ayanna Pressley.
We wouldn't have done this without Ayanna. She was there behind the scenes. She was there in front of the scenes. She was there making the scene. Ayanna's the one who helped push this across the finish line. So it's clear what it means to the people of Massachusetts and what it means to the people of this country. 
I also want to say a very special thank you to Kim Janey, who has been fighting the fights for economic justice. Plowed this field in this fight, and also to the NAACP. Tanisha, I appreciate what you've done. I appreciate what's been done nationally to drive home that this is about economic justice and about racial justice. Never to have anyone forget that as much as we talk about education being the great equalizer, the great opener of doors of opportunity, and I believe that. That the consequences of student loan debt have turned us in exactly the opposite direction. That today, people of color borrow more money to go to school, more money while they're in school, and have a harder time paying it off when they got out of school. 
You were powerful in joining forces to make sure that the President of the United States, that his entire administration, and that people across this country understand student loan debt is not the issue of a handful of elites from Ivy League colleges. It is a racial justice issue. It is an issue for people who have gone to community college. It is an issue for people who have gotten technical degrees. It is an issue for people who have their four-year degree. It is an issue of working people across this nation. This partnership is how we make change. 
President Biden has canceled up to $20,000 in student loan debt, and yes, zero debt. Thank you for your part in this. All the groups that [INAUDIBLE]. Up to $20,000, we've gotten the policy, the President has now gotten us going. But it only works if we extend this partnership. It only works if it moves for all of us who have been talking about this for a long time, right down to every one of the over 800,000 people here in our Commonwealth who are eligible for student loan debt relief, the 43 million who are eligible all across this nation. So, the Congresswoman and I are out here today. We're road-tripping. We've already talked about the snacks, the playlist. We're on this. 
Representative Ayanna Pressley: She wanted country.
Senator Warren: Oh, Patsy Cline speaks to my heart. But we're out here to try to go across the Commonwealth and get more people engaged. It's an easy form. We're going to talk more about how to do that in just a minute about applying. But we need everybody now to apply. Government is here to work for you. And it's not all the time that we get to say that. But this time, we have the great first half of a victory. We've now got the policy in place. We need the second half, and that is everybody take advantage of it. So with that, I'm going to turn it over to my partner, my beloved friend, Ayanna Pressley.
###
---
---
Next Article
Previous Article